Independent Electoral and Boundaries Commission (IEBC) has

accused the government of intimidation

 after police arrested information technology experts arriving from Venezuela at the Jomo Kenyatta International Airport.
In a statement dated Thursday, July 21, IEBC chairperson, Wafula Chebukati stated that the three foreigners were tasked with helping the commission in deploying electoral materials – KIEMS kits across the country.
Chebukati claimed that IEBC followed due procedure by informing airport officials about their arrival in advance.
"The three personnel, who are employees of Smartmatic International B.V. were arrested upon arrival at Jomo Kenyatta International Airport from Venezuela.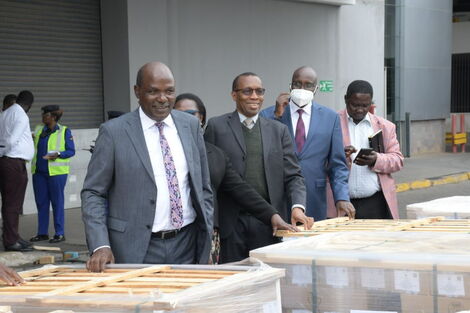 IEBC Chair Wafula Chebukati receives the first batch of the printed ballot papers on July 7, 2022. |Twitter
IEBC
"IEBC has a valid legal contract executed between itself and Smartmatic International B.V. for the supply, delivery, installation, testing, commissioning, support and maintenance of the Kenya Integrated Election Management System," read the statement in part.
Further, IEBC demanded the government release the officials unconditionally, questioning whether the arrests were part of a plot to manipulate election results.
"Technology plays a central role in elections and the commission wonders what the intention behind the holding of the technical personnel is meant to achieve.
"IEBC wishes to inform the public that the arrest and continued holding of the personnel have the inevitable effect of hampering the deployment of technology in the forthcoming General Election."
Police officers at JKIA, however, wondered why the commission was bestowing trust in foreigners to transport sensitive material supposed to be sealed as highly confidential cargo
IEBC was asked to produce a detailed report on how the foreigners were in possession of election material.
One official was said to have had 17 rolls of election stickers for various constituencies in his bags.
The arrest of the foreigners came hours after IEBC was denied access to election materials withheld at JKIA.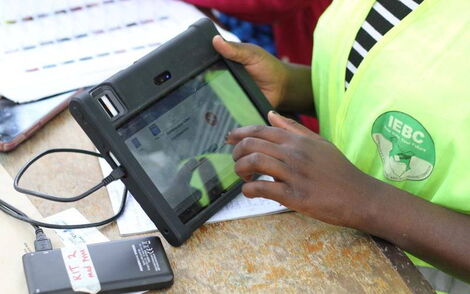 An image of an IEBC official using the KIEMS kit at a past election.
Reports indicated that security officials at JKIA were helping IEBC to verify the stickers – a concern that raised eyebrows among a section of Kenyans.
"Information circulating that government security agencies at JKIA have detained ballot papers allegedly imported into the country outside the indicated schedule of election materials is fake.
"The correct position is that today morning (July 21), the Commission received stickers to aid labelling and distribution of election materials. The JKIA security agencies in their normal procedure were trying to validate the stickers with the